EnquiryBot Dental
Stand: M40
Marketing Agencies / Promo Items
Practice / Sales Coaching
Website Design / SEO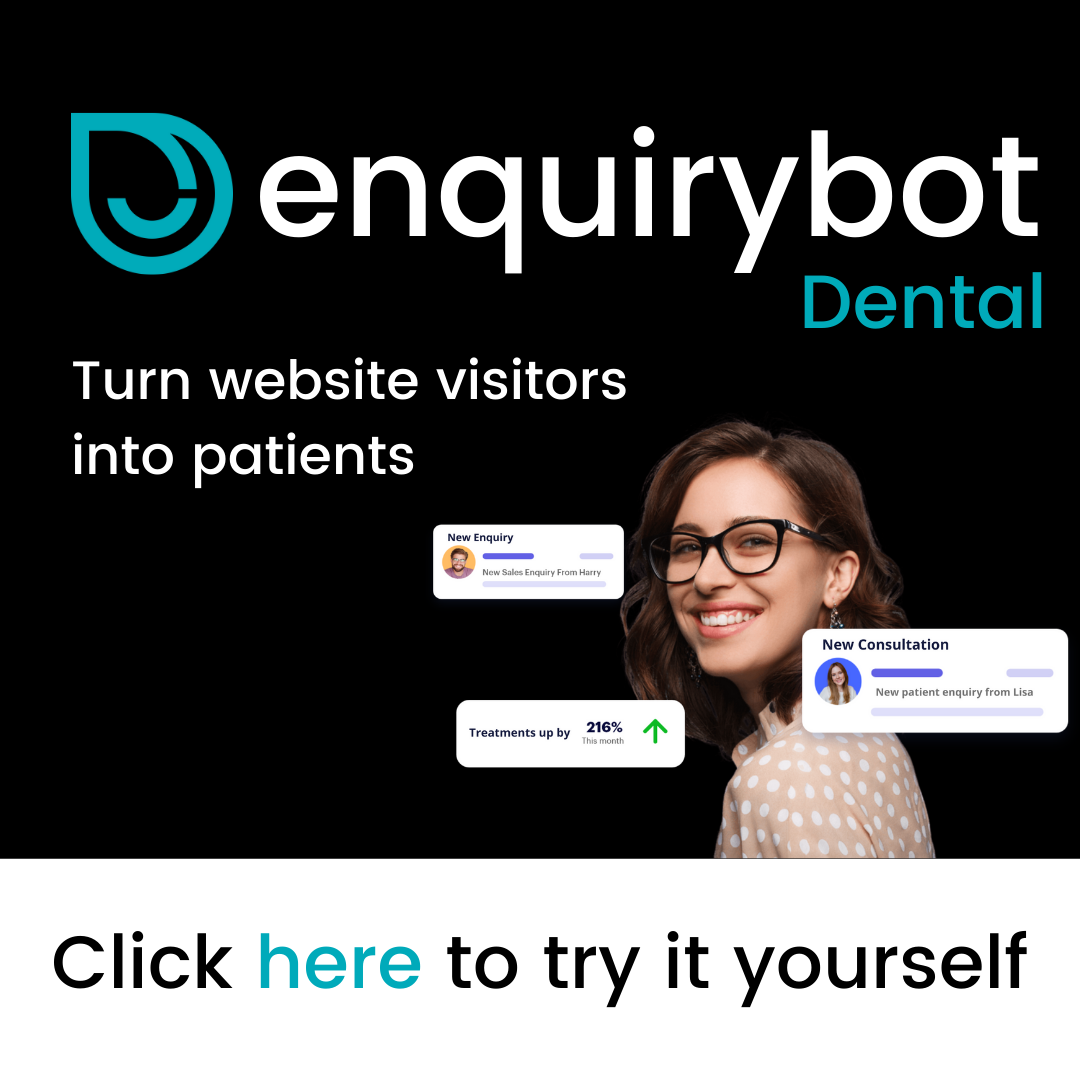 EnquiryBot Dental
Double your conversion rate and turn your website into an enquiry machine.
EnquiryBot Dental is a fully automated concierge service that engages more visitors and helps them enquire about the treatments you offer.
On average, 97% of website visitors leave without a trace. EnquiryBot Dental engages more people and increases your bookings... automatically, saving you time and money.
> Fully customised to your practice
> Auto-responder emails
> Lead management system with drag'n'drop patient journey tracker
> Reporting suite
> Fully supported by our UK based team for changes and updates
---
"Since putting EnquiryBot on my website, Invisalign leads have skyrocketed"
Dr. Jaswinder Gill, Moonlight Dental
"Over 50% of EnquiryBot leads book into appointments"
Dr. Martina Hodgson, The Dental Studio
---
Nin Gandhi-Patel
Lead consultant Nin Gandhi-Patel, an Invisalign® & Dental Practice Growth Expert, helped create EnquiryBot Dental specifically for dental clinics.
With over 15 years in the industry, sale trainer, speaker and business coach Nin, has a unique skill set for delivering 'excellence in business'.
He has built an impeccable track record with leading dental clinics across the UK and Europe, helping many achieve Diamond Level Accreditation with Invisalign®
---
3 Ways to Increase your Conversion Rate
Nin will be speaking on stage sharing top tips on patient conversions on Friday 17th at 2.10pm in the Private & Aesthetic Dentistry Zone and Saturday 18th at 10.30am in the Digital Dentistry Theatre.
Visit our team on stand M40 next to the Digital Dentistry Hall for a live demo and see how EnquiryBot Dental will work for your practice.
Address
8 Lanercost Crescent Monkston
Milton Keynes
MK10 9EB
United Kingdom