Building towards a positive future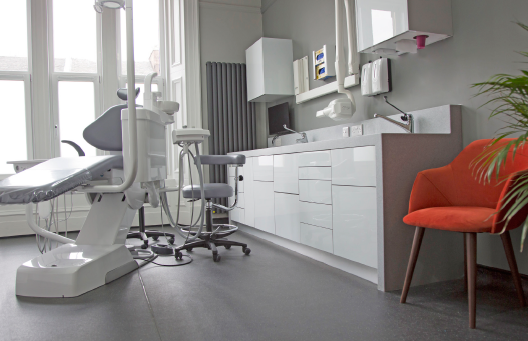 Dentistry Scotland talked to Adam Watt and Robert McKernon to get the story behind this excellent refurbishment.
Starting on a major practice expansion and refurbishment scheme just before the COVID-19 pandemic took hold may sound like a recipe for disaster, yet this was the scenario facing Adam Watt and Robert McKernon, Partners at Broomhill Dental in Glasgow. However, despite the challenges, and with exactly the right team on board, this beautifully renovated practice is now not only welcoming patients, but also planning ahead for a very positive future.

DS: Tell us about your practice and why you decided to undertake such a major refurbishment?
Robert McKernon (RM): Broomhill Dental was established in the 1920s and has been caring for patients from the Glasgow area and beyond ever since. We bought the practice in 2016, but by then the premises had become quite run down, with three old-fashioned surgeries and chairs dating from the 1980s. We were planning to totally modernise the existing surgeries when the building next door came up for sale. We saw this as a great opportunity to expand and build an even better practice, so we put our plans on hold, managed to acquire the adjacent property and started instead on a year-long building and renovation project to install three brand new surgeries.
DS: How did you plan this building project?
Adam Watt (AW): It's strange really, the building next door was originally a dental practice until the 1980s when it was sold and converted into a residential flat, so we have kind of come full circle. We had already purchased three new Belmont chairs prior to the new property becoming available, which meant expanding to six surgeries, so we ordered three more. In the end COVID meant they had to be kept in storage for nearly 18 months!

RM: At the time we purchased our equipment through Optident, but as we were planning such a significant building project their representative Barry McLelland introduced us to his colleague from Henry Schein Dental. We got on really well, and although we spoke to several other companies, they didn't fill us with the same confidence as the Henry Schein team.

DS: Did Henry Schein do all the design work as well as the supply and fitting of the surgeries and treatment centres?
RM: Yes, they discussed the surgery designs with us, the cabinetry options and where to position the chairs. They were very flexible, drawing up initial plans that we changed several times until we were happy, while making sure the plans complied with all the latest building regulations.
We chose both Compass and Voyager Belmont chairs as they are known to be 'workhorses', they last a very long time and came highly recommended by Alan, the engineer, who was responsible for the installation. In fact, the original chairs in the practice were 30-year-old Belmont chairs so we took this as a very good sign!

DS: What challenges did you face during the project?
AW: Initially it was the two-year delay to get planning permission to knock through and convert next door into the new surgeries. Once building work did begin, we then found ourselves just weeks away from the full impact of the first national lockdown which naturally brought unforeseen issues and delays.
It was definitely a struggle at times to keep the project on track while keeping everyone safe. Sometimes it felt we might never get finished, but everyone pulled together as a team and finally made it happen. Five of the six surgeries were completed by the end of 2020 and the final surgery was completed in February this year.

DS: Has everything worked out in the way you envisaged?
RM: Yes definitely. The whole team were really on the ball throughout. This was a big investment for us and we didn't want to compromise on anything and we haven't had to, at any stage.
Patient reaction to the refit has been brilliant. They really love the new environment and are very impressed. It's such a contrast between the old and new practice so everyone really notices the difference.
DS: What's your vision for the future?
AW: Our long-term plan is to keep all our services under one roof without having to refer patients to anywhere else. Our clinical team is already working on developing the skills to do this and it's our intention to offer a full range of skills across the practice. This is where we see the project heading and it's the driving force behind it.
RM: We have a firm vision for the future and we've invested into bricks and mortar to allow us to realise our goals. To us this is not just a practice refurbishment, it's a whole ethos. It's an exciting and positive time for all us at the practice despite the unusual times. We are remaining positive and concentrating on the things we can affect here and doing it well.
We plan to continue to invest in the practice. We're really keen to embrace the digital era and plan to continually upgrade our equipment and skills as the technology develops. Adam, myself and our team are all looking forward to a very positive future.
For further information
Henry Schein Dental combines a wide range of treatments centres, digital technology solutions and surgery refurbishment options all backed with knowledge, service, training and support. For further information call 0800 028 4870, visit hsdequipment.co.uk or email info@henryschein.co.uk