06 Sep 2021
3Dalign clear aligners Quicker and more patient friendly than other systems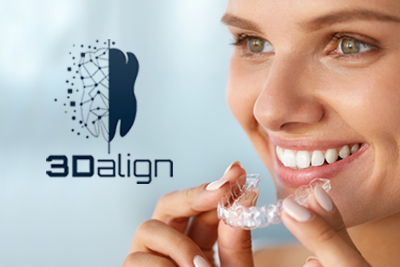 3Dalign clear aligners from Trycare, the UK's fastest growing dental dealer, are quicker and more patient-friendly than other aligner systems. A real Practice builder they enable clinicians to offer their patients a simple and cost-effective way to straighten teeth and correct other orthodontic problems.
Almost invisible, they are manufactured from a highly comfortable to wear acrylic and sculpted to 1mm below the gingival margin to facilitate clinically proven better movement without the sore scallops associated with other systems. In addition, 3Daligners can be removed for eating, drinking and cleaning so that the patient's oral hygiene is not compromised.
3Daligners can be used to resolve crowded teeth, space closure between teeth, crossbite, overbite and underbite. Treatment plans include a personalised patient video so that the clinician can demonstrate the stages involved and the final outcome for every patient.
With some treatment plans taking as little as 10 weeks and the majority of treatment plans requiring just 10 to 20 aligners, 3Dalingers are much quicker and more patient compliant.
3Daligners are supplied in a progressive set of five so that should the treatment plan need to be modified this can be done quickly and easily and without the clinician having to absorb the cost of wasted aligners. A problem associated with other systems where all the aligners are supplied at the start of the treatment.
Because the clinician is dealing direct with the technicians manufacturing the aligners there is no cumbersome computer interface to negotiate and an immediate response is available. Unlike other systems where it can take weeks to receive replacement aligners, during which time the patient's treatment can relapse.
At completion of the treatment plan, retainers are available individually or in packs of three with the details stored online so that replacements can be supplied at any time without the need for more impressions.
Trycare host regular evening webinars so that anyone wanting to start providing their patients with the most comfortable and patient-friendly orthodontic treatment can. With no specialist orthodontic training required it could not be simpler to get started!
For more information about the 3Daligner range, including webinar details, contact your local Trycare Representative, call 01274 885544 or visit www.trycare.co.uk