06 Sep 2021
Adin Implants. Stay where you put them!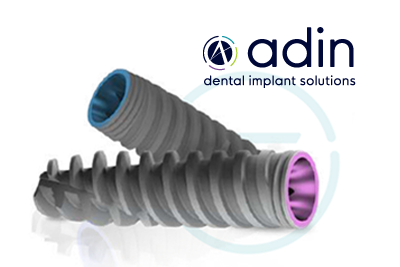 Trycare Ltd is the UK Distributor for Adin Dental Implant Systems, the world's tenth largest manufacturer of dental implants. Clinical tests in universities and hundreds of thousands of successful restorations make Adin implants first choice for many implantologists.
Adin's spiral design implants are suitable for all indications and exceptional for immediate loading. Their surfaces have been treated for faster osseointegration and New York University research indicates that they integrate as well as Nobel, Straumann and Astra.
Their unique thread and tip slices through bone compressing and condensing on the way, offering outstanding primary stability and optimal restorative orientation. Whilst their surface treatment has been shown to increase osseointegration. They also feature macroscopic grooves on the surface of the implant thread. These operate together to double the surface area of most other implants and give better bone-to-implant contact. This promotes the crucial "bonding" of the bone to the implant.
Adin spiral design implants have the capability to be redirected during placement with little or no reduction of stability, the dual cutting blade edge helping to keep the osteotomy site and trauma to bone and surrounding soft tissue to a minimum. This makes them ideal for thinner ridge bone in the anterior aesthetic zone.
Adin implants are the next-generation of bone-level implants and one of the highest performing implants available in the world. They are a favourite with many of the FGDP implant course tutors at The Royal College of Surgeons and some consider they are superior to all the other implant systems they have used.
For new users, Trycare Ltd offer a range of introductory offers designed to help clinicians to start taking advantage of the unique benefits of Adin implants.
For further information visit the Trycare website, www.trycare.co.uk/adin, or request one of their Surgical Essentials and Adin Catalogues. To request a catalogue please contact your local representative or call 01274 885544.