06 Oct 2021
AESTHETIC TRENDS AND INNOVATION UNDER THE SPOTLIGHT AT CCR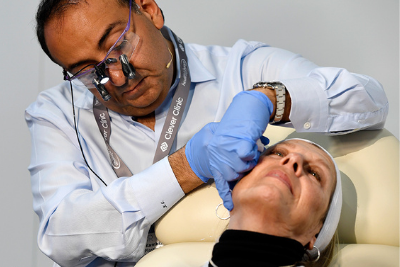 CCR opens next week and is set to inspire and advance the industry with a host of exciting brands, insightful symposia, conferences, masterclasses and events which look to the future of the medical aesthetic industry.
This year is set the be the best year yet, reuniting an industry that has had such a turbulent 18 months offering inspirational speakers, over 150 leading aesthetics brands on the showfloor, new and exciting launches along with live demos and symposia set to motivate and educate.
Register for your complimentary ticket to CCR at here.
Non-Surgical Agenda
The Non-Surgical Arena will host a packed agenda of programme bringing the non-surgical agenda to life. Watch out for Professor Bob Khanna delivering a Profile Correction Masterclass: Profiloplasty Revisited, whilst Dr Daniel Cassuto will discuss Balanced Facial Healing. Dr Nestor Demosthenous will discuss non-surgical body sculpting, Consultant Ophthalmologist and Oculoplastic Surgeon, Mr Daniel Ezra will discuss the topical subject of Hyaluronidase for filler reversals and Dr Sophie Shotter focuses on how to avoid unfavourable outcomes from toxins. Additional top UK aestheticians and practitioners to watch out for include Mr Ash Labib, Dr Marwa Ali, Dr Raul Cetto, Dr Raj Thethi, Dr Nicola Zerbinati and Dr Abhinay Settipalli all with their own expert approaches to the non-surgical agenda.
New for 2021, The ACE Group World, will be delivering a half-day complications programme. Beatriz Molina, founder of IAPCAM discusses complications related to lips with a focus on vascular occlusions whilst renowned trainer, ENT Surgeon, and famous for his non-surgical rhinoplasty, Mr Ash Labib, speaks about complications arising from treating the nose with a specific focus on hyaluronidase. Additional speakers include Liz Bardolph, Dr David Eccleston, Dr Xavier Goodarzian, Dr Steve Tristram, Dr Martyn King, Helena Collier, Dr Sabrina Shah-Desai and Dr Harryono Judodihardjo.
An Audience with Arthur Swift
Be one of the lucky people to win a spot at one of the three "An Audience With" sessions on Friday 15 October. To be in with a chance of winning a place follow @Prolleniumuk Instagram and sign up to www.sphericalrevolution.com. "An Audience With" spots will be allocated on a first come first served basis.
Start-ups and new faces
CCR is set to welcome several new and innovative brands this year. These include electronic companies aiming to make the patient experience more streamlined. Tap2App lets merchants use NFC-enabled smartphones as credit and debit card readers without plug-ins or wireless hardware whilst the SafeAP offers a new way to search and book your favourite medical aesthetic treatments. MAPIQ unites employees and aims to take your workplace to the next level, Me Time is an online platform that makes it easier for patients to find cosmetic treatments in their area and Columns is a new cloud-based practice management software helping practitioners and clinic owners run and grow their businesses. We are also welcoming The Aesthetics Accountant, who offer expert insight into the ins and outs of the medical aesthetics industry.
CCR is also home to new skincare brands including LABthetics, a medical grade cosmeceutical skincare, created by professionals who formulate, test and manufacture all products in-house using only scientifically proven medical grade aesthetic ingredients backed by scientific research. CellDerma, a brand borne out of passion for all things skin, offers a range of skincare products based on 'clean science' whilst Prima Ultima offer unique premium dermal fillers. Dermafocus provides a range of innovative and diverse solutions to treat numerous indications through advanced skincare and non-invasive therapies and you also have the opportunity to see EvoCyte who distribute the multi-award winning VIVACE Microneedling RF device.
Big Brands, Symposiums, Demos & More!
Leading brands Galderma, Vivacy, Lumenis, Allergan, Prollenium, Relife and more take to the stage at CCR with a variety of live demos and symposia. One's to watch out for include Relife who will be hosting Dr Vincent Wong demonstrating the effectivity of the brand with a celebrity case study, Galderma KOLs Miss Priyanka Chadha and Dr Lara Watson discussing the secrets of lower facial transformations and world-renowned Dr Arthur Swift delivering a Prollenium Symposium on OMGEE Curve, Mastering of the mid-face with Revanesse.
Anatomy & Cadaver Masterclass with Dr Tapan Patel
A unique masterclass on injection techniques with video cadaver demonstrations delivered by Dr Tapan Patel, world renowned medical director behind PHI Clinic and cosmetic expert on 10 Years Younger. Dr Patel is recognised as one of the most talented and skilful injectors in the UK.
Trends Report
2021 sees the introduction of the first ever CCR Trends Report focused on future trends and innovations in aesthetics with the findings presented at the CCR Press Conference, taking place on 14th October between 10am and 12pm. Hosted by Francesca White, Beauty Editor-at-Large of Tatler and Editor of Tatler's Beauty and Cosmetic Guide, the press briefing will detail all that's new and exciting in both the invasive and non-invasive aesthetic disciplines and is sponsored by iconic brand Neauvia, a vibrant medical aesthetics company launching in the UK in 2021.
Incorporating injectable trends, the latest and greatest in energy delivery devices, surgical protocols, skincare and other aesthetic services and with Q&As from leading practitioners, this ground-breaking event is set to become a perennial must attend.
Recharge and reconnect!
Attendees can make the most of an array of networking events celebrating the big reunion at CCR. Visit the Onsite Networking Hub, sponsored by Galderma and join the Networking Drinks from 17:00 on Day 1 sponsored by Med-FX.
Register for your complimentary ticket to CCR at here.