19 Jul 2022
Charity launches Dentaid Community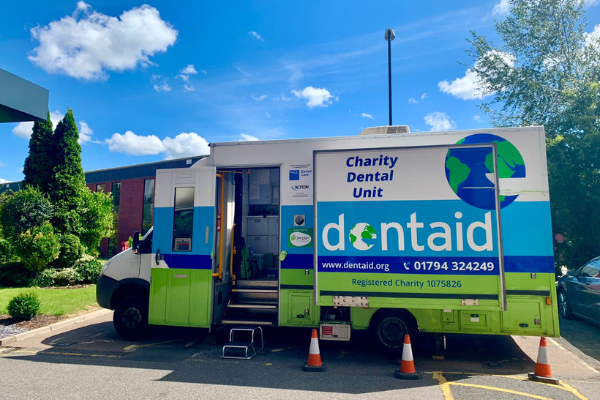 Award winning dental charity Dentaid has launched the Dentaid Community to bring together fundraisers, volunteers and supporters.

Dentaid Community members will be able to share their experiences of volunteering in the UK or overseas, organise fundraising events and promote Dentaid's work in their own areas of the country.

The campaign will use social media to link community members so they can keep in touch with each other and hear the charity's latest news. They will also be first to learn about overseas volunteering trips, have regular updates on new volunteering opportunities in the UK and be able to win certificates and trophies to be displayed in their practice as a mark of their support.

Since the pandemic, Dentaid has undergone a period of rapid expansion as demand for its services has skyrocketed. The charity now has 22 staff, projects around the world and by the of the year will have a fleet of 6 mobile dental units providing outreach dental care for homeless and vulnerable patients across the UK.

This is all thanks to dental professionals who give up their time to volunteer for Dentaid either in the UK or overseas, those who organise fundraising events and people who support the charity.

"We are so fortunate that as Dentaid has grown we have been able to attract an incredible new group of people who are committed to supporting our work and helping the most vulnerable people to access safe, sustainable dental care," said Dentaid's fundraising manager Pete Burch. "These supporters are based across the country and are involved with Dentaid in many ways. Each has their own expertise, knowledge and experience of being part of our charity and we wanted to give them the chance to swap ideas, encourage each other and inspire others to help Dentaid grow. Our patients face so many barriers to accessing dental care whether that's because they are experiencing homelessness or live in a remote community overseas. We're getting more requests for our mobile dental clinics, BrightBites oral health programme and overseas projects than ever before and we are only going to get busier. The Dentaid Community is a way of bringing together all the people who are playing a part in our success so we can celebrate their involvement as they help us grow and change more lives through dental care."

Dentaid recently won the Healthcare and Medical Research category at the prestigious Charity Awards for its work providing mobile dental services for people experiencing homelessness.

The charity also runs dental clinics for refugees and asylum seekers, fishing communities, head and neck cancer patients, ex-service personnel, victims of domestic violence and children in areas of high social depravation. Its BrightBites oral health programme is delivered in the UK and overseas and Dentaid supports dentists around the world by supplying equipment and volunteers to help them reach more patients.

Anyone who wants to be part of the Dentaid Community can sign up for free by visiting https://www.dentaid.org/dentaid-community. They will then be invited to join the Dentaid Community Facebook page.