14 Jul 2022
Deciphering the new periodontal classification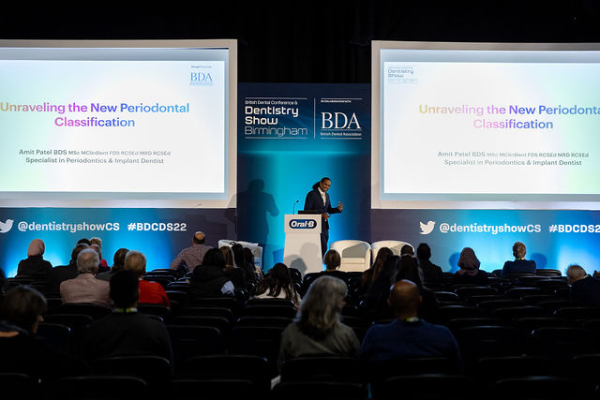 Periodontitis remains a significant oral health concern. In fact, the CDC estimates that that 47.2% of people aged 30 and older have some form of periodontal disease.(i) Since the late 1990s, periodontitis has been classified in accordance to the Armitage classification of periodontal disease. However, in 2017, the American Academy of Periodontology and the European Federation of Periodontology joined forces to create a new classification that is now being implemented today.
During his session in the BDA Theatre at this year's British Dental Conference and Dentistry Show, Dr Amit Patel set out to explore this new classification, discuss periodontitis in the UK and explain how dentist and patients alike can join forces to help reduce levels of the disease in the future.

To begin his session, Amit gave a brief overview of current periodontitis levels across the nation. He suggested that over half of the adult population have periodontitis and that it costs the NHS £7.5 billion every year. He also brought up the topic of litigation, stating that a number of dental negligence claims use arise from issues caused by periodontitis.
From this point, Amit then talked through the warning signs of periodontitis and how the disease impacts the natural tissues. Tracing the disease journey from initial inflammation of gingival tissues to the resulting bleeding, infection and formation of periodontal pockets, Amit then looked at the eventual consequences of bone loss and tooth loss.
He also discussed the risk factors that impact incidence of the disease, including smoking, diabetes and, interestingly, the weight gain that people have experienced during lockdown – many of which were interlinked.
So, how do professionals properly classify periodontitis in 2022?
To begin with, Amit outlined the tools professionals would need to properly assess the condition. Essential tools included BPE probe, a Williams probe and a Nabers furcation probe. Utilising these, professionals will be able to accurately assess pocket depth across the oral cavity.
These scores are essential for seeing which Grade periodontitis fall under. Grade A periodontitis, for instance, is when the maximum percentage of bone loss present is less than half the patient's age. Grade C is when the maximum percentage of bone loss exceeds the patient's age. All other cases are classified as Grade B.
Mild, moderate and severe classifications remain the same.
This simplified approach helps ensure that classifying the disease is more straightforward for professionals, allowing them to tailor their treatment suggestions more effectively to each case.
Amit then finished his session by speaking about how patient motivation to maintain good oral health is, above all others, the key to help preventing the disease. He put emphasis on the importance of educating patients and avoiding dental jargon, keeping the information simple while utilising emotional words such as bacteria in the place of plaque to try to inspire better habits.
Finishing with an interesting array of case studies demonstrating how periodontitis can be managed and the significant difference this makes, Amit's session was a deeply arresting insight into the disease and this new classification.
(i) Centers for Disease Control and Prevention. Periodontal Disease https://www.cdc.gov/oralhealth/conditions/periodontal-disease.html#:~:text=47.2%25%20of%20adults%20aged%2030,some%20form%20of%20periodontal%20disease [Last accessed July 22].