22 Aug 2023
The Dental Hygienist Roadshow finale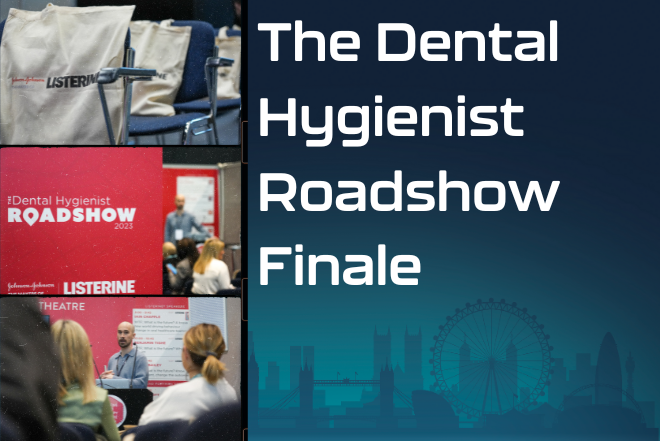 The Dental Hygienist Roadshow by Johnson & Johnson Ltd. concludes with its final date this October at the Dentistry Show London. Make sure you register for the show and add 6th October to your diary.
Don't miss your last chance to register for the Dentistry Show London and attend the final date of The Dental Hygienist Roadshow on 6th October.
If you would like to register and attend the exclusive Q&A Forum following the Roadshow lectures to discuss the latest research and recommendations in a closed session with the speakers, simply visit listerineprofessional.co.uk/roadshow2023. Places are limited, so don't delay.
Throughout 2023, the world of dental hygiene has witnessed an exciting event - The Dental Hygienist Roadshow, which includes a unique and innovative Q&A Forum.
Visiting cities across the UK, Professor Iain Chapple, Simone Ruzario, Benjamin Tighe and Laura Bailey have covered:
The current impact periodontitis is having on the UK population
Why using plaque control measures, which can help to manage gingivitis, is key to successful preventive care
The role the dental hygienist and dental therapist can play in initiating patients' behaviour change.
And now the Roadshow is preparing for its final date – Dentistry Show London on 6th October.
'The feedback we've had from Roadshow attendees so far is that we've reinvigorated their passion for supporting patients' health through behaviour change,' Laura Bailey said.
'We're starting to get excited about oral hygiene again and how we motivate our patients, which is really important.
'If you're not attending The Dental Hygienist Roadshow, and in particular the Q&A Forum, you're missing such a good opportunity.
'We really get to the nitty gritty about why gingivitis is the new paradigm.'
Answering your concerns
As part of The Dental Hygienist Roadshow, delegates have the opportunity to sign up to attend an exclusive Q&A Forum following the main lectures.
The format of the Forum gives attendees the chance to voice their concerns and ask questions of Iain Chapple, Ben and Laura, as well as get their feedback on how to encourage new patient behaviours and habits.
This platform has served as a catalyst amongst dental hygienists, as increasing numbers become aware of the latest research and the British Society of Periodontology's (BSP) S3 Level Periodontal Treatment Guidelines.
'When I think about myself at the Hygienist Advisory Panel in 2022, I was adamant my mind wasn't going to be changed on mouthwash,' Benjamin Tighe said.
'Professor Chapple was fundamental in shifting my own thinking. He presented the evidence in a way I could understand.
'It was open, free, I could ask questions. It helped me to understand it a lot better. If you understand it, you're more likely to know when to recommend it.
'That's what this Roadshow is all about; it's an open forum. It's there not just to get ideas from the lecturers but also from the delegates.
'We want to know what you think. If there's anything we can do to facilitate change in practice, then that's partly what we're here for.'
Final chance
With the final Roadshow date in October, now is the last chance to book your space onto the Q&A Forum, and to hear Professor Chapple, Ben Tighe and Laura Bailey lecture on the latest evidence.
By empowering dental hygienists with the latest knowledge, tools, and techniques, the Roadshow aims to support dental professionals in their efforts to deliver the highest standard of care to patients in the UK.
You will come away ready to ensure your patients are implementing habits that will enable them to achieve optimal oral health between appointments.
'We've had some great conversations and great questions, not just from dental hygienists and dental therapists but dentists and dental nurses as well,' Professor Chapple concludes.
'What this Forum has offered is a really relaxed and informal environment for people just to exchange views, talk about challenges. To question and challenge what we've been saying, which is really important.
'That's really enriched the main presentation.
'For me, what's really important from these roundtable discussions is I learn as much as the delegates. They're giving information on how they do things in practice.
'It's certainly a two-way learning process
UK-LI-2300246