11 Jul 2021
In the room – time to engage with voices of the modern profession.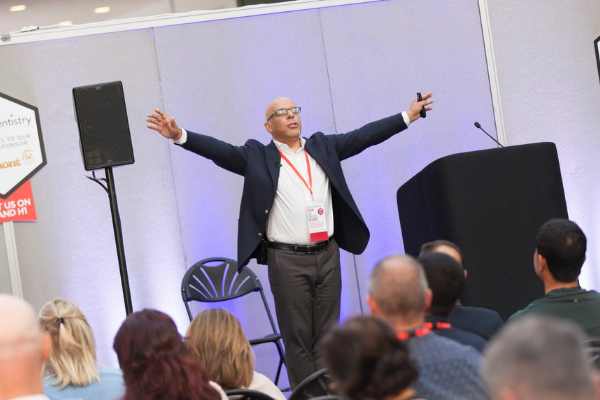 Online and virtual events very much came into their own over the past 12 months, but the time has finally come to get safely back to in-person meetings and live conferences. There are many advantages to being able to interact with colleagues directly, to be in the room when they're speaking and to ask questions in face-to-face. It's about feeling the atmosphere, contributing to the event and enriching the learning experience for both yourself and your colleagues.
The Dentistry Show London will be one of the very first live dental events in many months and in anticipation of a fantastic conference and exhibition, it is important that you plan your trip to get the very most from it. The programme will be a huge draw for many delegates, which will be presented by some truly inspirational and widely-renowned speakers.
Among the industry-leading names in the NHS & Business Theatre will Mark Topley – otherwise known as the CSR Coach. About the event in general and his session, he comments:
"We all realise that online meetings are fantastic but we have really missed the interaction, the immersive nature, the relationships and the human contact of live events. The Dentistry Show London will provide a fantastic opportunity to get together once again and I'm really looking forward to it.
"CSR, when done well, feels good. There's a real satisfaction in reaching the end of your work day knowing that you've not only had a successful day commercially, but you've done so with respect for other people and the planet. That's a legacy to be proud of. If you'd like to know more about how you can enhance your CSR, I'll be discussing the topic in detail at The Dentistry Show London this September."
Over in the Private & Aesthetic Dentistry Zone, the motivational Dr Harry Singh will be helping delegates learn "How to add an extra £120,000 annual income from Facial Aesthetics". He says:
"I will discuss how to attract new patients, convert more patients and retain existing patients. I hope delegates will take away a proven road map on how to incorporate facial aesthetics within their dental practice.
"Now is the time to introduce facial aesthetics to complement your dentistry services. I can help with this."
Across all theatres, there will be plenty of opportunity to engage with the speakers and with fellow delegates, with regular Q&A sessions at the end of lectures. The event will also offer various chances to safely socialise with friends, new acquaintances and colleagues from across the industry. After so much time apart, we expect everyone to have plenty to catch up on, so there will definitely be time to do just that!
Back to the programme and we have more highly-esteemed speakers to look out for. One such presenter will be Dr Paul Tipton in the Clinical Excellence Theatre, discussing "Occlusion for the GDP – does it matter". Reflecting on his session content he says:
"It's known there are two basic ways to influence behaviour, the carrot and the stick. I will look at both. From a carrot point of view, it's imperative to understand occlusion so your work succeeds long-term and you achieve a stable end result. This breeds confidence and reputation that is so important in private practice.
"The stick is, of course, avoiding litigation and staying on the register. My presentation will focus on both and give delegates the basics of how to start their occlusal journey."
Returning to non-clinical topics, there will be a chance for clinicians to consider how they might reduce both their risk of litigation and how much they worry about it every day with Dr Mahmood Mawjee. Sharing why he feels delegates will benefit from his two sessions he comments:
"There is always going to be litigation – even if you have the best hands in the world, you will get complaints. We can minimise the impact by building mental resilience, ensuring the confidence to carry out work and communicating effectively with patients.
"Life is about being happy, but a lot of dentists are not. This is still a great profession, but it is stressful and dentists need to learn to deal with that aspect better. I aim give delegates one idea that could change their lives – don't miss my sessions at The Dentistry Show London!"
The inclusive and dynamic programme will offer something for all dental professionals, making The Dentistry Show London the perfect day out for the whole practice team. In addition to those already mentioned, there will be the Corporate and Laboratory Update Theatre, Enhanced CPD Theatre, Compliance Hub (programme by CODE) and the Digital Dentistry Theatre (presented by the International Digital Dental Academy). Covering a full spectrum of pertinent topics, other speakers to note include:
Sam Jethwa
Barry Oulton
Kreena Patel
Chet Trivedy
Andrea Johnson
Jimmy Makdissi
Philip Lewis
Reena Wadia
Simon Gambold
Many, many more!
As you can see, there will be plenty of voices worth listening to and engaging with at The Dentistry Show London this September. To make sure you don't miss out on all the benefits of the first live event in many months, register for free online today!
Full speaker line-up coming soon! Register now to receive the latest updates.
Dentistry Show London 2021
Friday 17th and Saturday 18th September
Olympia London