11 Sep 2023
Leveraging digital planning centres for the busy GDP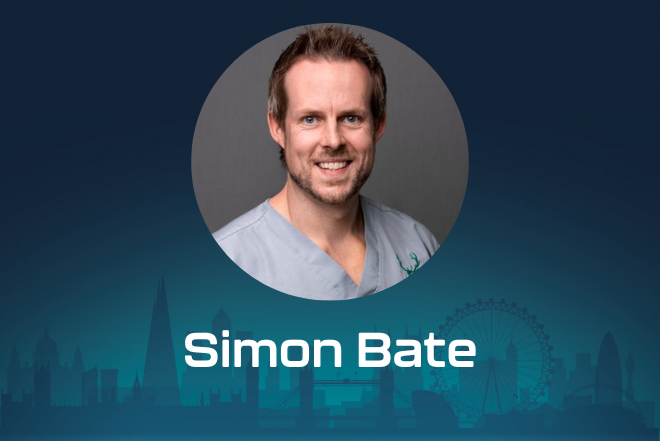 Digital dentistry is a rapidly evolving field which has the potential to massively increase the efficiency and predictability of modern dental treatment. Simon Bate, dentist and practice owner at Clavell-Bate & Nephew Dental Surgeons, is a champion of digital dentistry and features on the speaker line-up for the Aesthetic & Digital Dentistry Theatre at this year's Dentistry Show London. Having had postgraduate training in aesthetic dentistry, orthodontics, periodontics and implantology, Simon has recently taken an interest in the world of digital dentistry, and will use his speaking session at the show to discuss how GDPs can make best use of some of the digital services available to them.
We spoke to Simon ahead of his lecture to get a sneak preview of his session. See what he had to say below.
You will be giving a lecture about collaboration between GDPs and digital planning centres at Dentistry Show London this year. For those that don't know, can you explain what a digital planning centre is?
Digital dentistry is using technology to plan and produce dental restorations. There are two parts to this: there is CAD and there is CAM. CAD is computer-aided design and CAM is computer-aided manufacturing. Digital dental laboratories or fully digital dentists will do the whole process themselves from start to finish. However, for those that are not yet fully digital, using a design or planning centre takes the CAD portion off the dentist. A design centre will receive scans of a wax-up and scans of the preparations, mesh the two together, and then use this to create a series of STL files that the dentist can then use to manufacture the restorations. Planning centres go one step further again and use scans, x-rays and photographs to digitally plan the treatment in collaboration with the dentist, as well as the CAD – and in some cases even the CAM – portion. Design centres tend to be technician-led and planning centres tend to be dentist-led.
What are the main benefits for GDPs of working with a digital planning centre?
The holy grail for any dentist is a workflow that is fast, efficient, cost-effective and predictable. Digital technology can achieve improvements in all these areas, but also comes with a steep learning curve. Learning a software like Exocad requires a significant time investment, and if you are not using it all the time, the workflow will never become slick. You then also need an understanding of the hardware and materials. If you don't, then digital dentistry can be fraught with problems and ultimately lead to failures. Both issues will reduce efficiency and cost money.
One benefit of using a design or planning centre is the time-saving aspect. Technicians that use the software all day long will speed up the CAD process and will achieve better predictability and longevity. On top of this, a planning centre allows multidisciplinary treatment planning remotely. Complex cases that require multiple treatment modalities can be planned in collaboration with specialists, so the dentist will provide scans, photos and radiographs, and a technician will provide an ideal wax-up. After this, the treatment will be planned by the dentist with the help of specialists where required. The treatment plan is then executed by the dentist.
Who will this talk be useful for and why?
Any dentist looking to start their digital journey; any dentist whose digital workload is starting to increase and needs some time-saving techniques; any dentist who is looking to start treating more complex and comprehensive cases and would like the support of specialists for treatment planning.
Are there any other developments in digital dentistry at the moment that you are particularly excited about?
Like everybody else, I'm bursting to see what AI is going to bring to digital dentistry. I'm sure it's going to be a total paradigm shift.
Apart from your own speaking session, what else are you looking forward to about attending Dentistry Show London in October?
The teaching faculty at the IDDA always have some golden nuggets to take away, so I'm very much looking forward to attending other lectures in the Aesthetic & Digital Dentistry Theatre. However, every time I've been to the Dentistry Show, the best parts have always been the bits I've not been expecting. There's always something new that's passed me by and I'm looking forward to finding out what that is this year.
You can see Simon Bate's lecture, 'Digital workflows for the busy GDP: A collaboration with digital planning centres', in the Aesthetic & Digital Dentistry Theatre at this year's Dentistry Show London, taking place on the 6th and 7th October at ExCeL London.