06 Sep 2021
State-of-the-art Second Generation GBR material!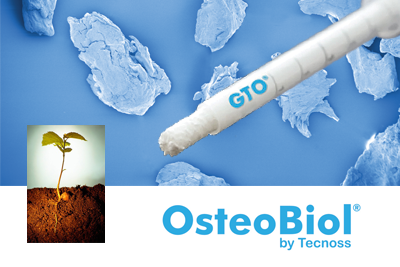 Tecnoss's OsteoBiol® GTO® is the state-of-the-art Second Generation Guided Bone Regeneration Material from Trycare.
All Tecnoss OsteoBiol products are Second Generation because they exhibit 100% conversion to human new bone within a finite, 12 to 24 month, period. Unlike ceramatised first generation materials which only partially, if at all, convert to new bone, simply remaining as unreacted lumps of dead foreign bone within the GBR site.
Available in 0.5 and 2.0cc syringes, OsteoBiol® GTO® is Tecnoss's state-of-the-art ready-to-use pre-hydrated biomaterial that can be easily dispensed into defect sites direct from the syringe. It enables clinicians to skip the hydration phase with saline or blood, saving time and decreasing the risk of accidental exposure to pathogens. OsteoBiol® GTO® contains Tecnoss's innovative OsteoBiol® TSV Gel which ensures optimal stickiness of the material, allowing easy adaptability to the recipient site and extreme stability.
Conceived as a universal biomaterial, easily adaptable to any bone defect, it is particularly indicated for horizontal augmentation of two-wall defects and socket preservation with compromised buccal plates. It can also be used in sinus lifting procedures where it can be applied directly through the bony window, helping to stabilise implants during immediate placement. It can also be used to treat peri-implant lesions and severe bony defects.
For more information, call Trycare Ltd on 01274 885544 or visit www.trycare.co.uk/osteobiol