02 Sep 2021
"Never too late to join the digital dentistry journey"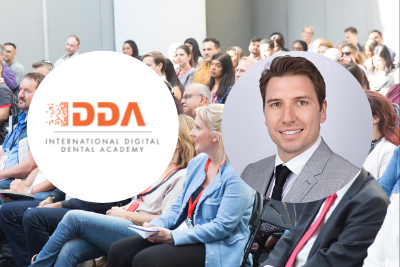 The Dentistry Show London 2021 will host several pioneering lectures and interactive sessions, covering a range of topics. Professor Adam Nulty of the International Digital Dental Academy (IDDA), discusses how they programmed the Digital Dentistry Theatre, which will provide remarkable lectures on digital dentistry, designed to educate and empower.
Adam explains what their aims for the Digital Dentistry Theatre programme are, and what they hope to achieve for delegates:
"In creating this programme, the IDDA as a group discussed current technological advances in order to provide a set of unparalleled digital learning power lectures that would not only provide CPD for the general dentist, but also educate and empower the entire audience to better their clinical practice.
"The IDDA has grown to more than twenty thousand members, of which over a thousand are registered on the learning platform studying various short courses," Adam continues. "We're lucky that in our institution we also have over one hundred PGCert, Diploma and MSc students at various points in their study, who we have carefully selected from to provide some of the lectures, as well as bringing in some KOLs and more well-known names in digital dentistry.
"As such, some of our speakers have crafted lectures on more advanced and highly empowering topics ranging from the creation of in-house clear aligners to guided surgery and smile design. Others have created lectures aimed at the dentists just getting started with digital dentistry who want to use these tools to improve their practice."
What are Adam's expectations for the programme? What message would he like the audience to take away from the programme? He comments:
"Our hopes are that by learning from our speakers and other practising dentists, delegates will be empowered to make better decisions, aiding their real-life dentistry. All of our speakers are clinicians in current practice who are using digital equipment in their day-to-day treatment of patients.
"Our main message would be that digital is for everyone. It's never too late to join the digital dentistry journey. Our mission statement has always been to provide support for dentists at every stage with unbiased and open advice and make the potential minefield a little easier to navigate."
Regarding how else the IDDA can support dental professionals in their digital journey, Adam adds:
"The IDDA has evolved to inspire clinicians through education, but most recently we have launched Scan Club, an intraoral scanner membership scheme and the first of its kind. This enables every dentist from associates to principals to get on board and start their digital journey. Scan Club provides try out sessions for all scanners in an unbiased atmosphere, but most importantly, it includes on-going education and support, so users understand the tools better. As level 7 students in digital dentistry, members also receive exclusive discounts for various CAD/CAM tech too including Intra-oral scanners."
The Dentistry Show London 2021 presents the perfect opportunity to learn more about digital dentistry. Don't miss out this September to see the IDDA and members in action and take the firsts steps in revolutionising your practice with digital technology.
To learn more about the International Digital Dental Academy please visit www.digitaldentalacademy.ac.uk. For details of Scan Club, please visit;
Dentistry Show London 2021
Friday 17th and Saturday 18th September
Olympia London
Register for free at https://london.dentistryshow.co.uk/